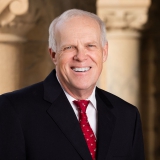 Awards
Honorary Degree (2018)

L.H.D
Doctor of Humane Letters
IU Graduate Commencement
Bloomington, Indiana
Presenter: Michael A. McRobbie
About John Hennessy
John Hennessy, president emeritus of Stanford University, made a name for himself long before he was considered for president of the university. Hennessy is well-known in computer science, engineering, and higher education circles. He transformed the information technology industry, and his designs have benefited not only Stanford, but also Indiana University and other academic institutions, as well the mobile phone industry.
Early in his career at Stanford, he worked on computer architecture and compiler technology - specifically, optimizing compilers, multiprocessor design, cache coherence, and virtual memory management. In the 1980's, he focused on reduced instruction set computer (RISC) architecture. RISC architecture became the industry standard for supercomputers and other systems that make high-speed, complex calculations.
Hennessy was also essential to Stanford's DASH program, a cache-coherent multiprocessor system. Today this design is standard. In 2004, Hennessy was honored for his DASH work with the Association for Computing Machinery's Computer Architecture Organization Award.
In 2017 Hennessy and distinguished Google engineer David Patterson received the Association for Computing Machinery A. M. Turner Award, for pioneering a systematic, quantitative approach to the design and evaluation of computer architectures which greatly impacted the microprocessor industry. During his presidency at Stanford, Hennessy reinvigorated the arts and human services curricula, which had long been overshadowed by its science and technology programs. He spearheaded fundraising for a new art museum, a performing arts center, and a new home for the art department. In the 16 years of his presidency, Hennessy made educational access a priority for the university, which saw only a 5 percent acceptance rate among more than 42,000 applicants annually. Under his leadership, Stanford committed that families with incomes up to $125,000 a year would not have to pay tuition for undergraduate students. Stanford's endowment rose to $21 billion to meet this goal, and in one year, 2014, the endowment received $928 million in cash donations.
After a stellar career as both administrator and professor, Hennessy has received almost every significant award in the field of computer science, as well as most of those awarded to superb administrators. He presides on Google's and Cisco Systems' boards of directors, and he has published two groundbreaking textbooks on computer design.
Hennessy was honored by Indiana University in 2018 with an Honorary Doctor of Humane Letters at its graduate commencement ceremony for his outstanding achievement in the arts and humanities, and for his community engagement and public service.