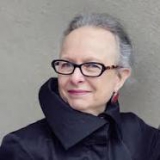 Awards
Honorary Degree (2018)

L.H.D.
Doctor of Humane Letters
IU Graduate Commencement
Bloomington, Indiana
Presenter: Michael A. McRobbie
About Barbara Kirshenblatt-Gimblett
After earning her Ph.D. in folklore at Indiana University in 1972, Kirshenblatt-Gimblett taught in folklore, anthropology, literature, Jewish studies, and performance studies departments at the University of Texas, Columbia University, New York University, University of Pennsylania, and other elite institutions, with visiting positions in New Zealand and at IU. She is a consummate academic, as evidenced by her interdisciplinary work and her international collaboration on POLIN Museum of the History of Polish Jews in Warsaw, Poland.
Kirshenblatt-Gimblett authored Destination Culture: Tourism, Museums, and Heritage in 1998, which has become her most-cited book. She also wrote, They Called Me Mayer July: Painted Memories of a Jewish Childhood in Poland before the Holocaust, a collaboration with and about her father; co-edited Museum Frictions: Public Cultures/Global Transformation; and won a National Jewish Book Award for her edited volume Writing Modern Jewish History: Essays in Honor of Salo W. Baron.
Kirshenblatt-Gimblett's involvement with POLIN Museum began in 2002 when she was a consultant. In 2006, she began working as chief curator of the museum's core exhibition. The exhibit covers 1,000 years of Jewish history and culture in Poland. Kirshenblatt-Gimblett faced dual challenges: working with few artifacts to create the exhibit and combating assumptions about the vibrancy, or lack thereof, of Jewish culture and history in Poland.
She was honored for lifetime achievement by the Foundation for Jewish Culture and received honorary doctorates from the Jewish Theological Seminary of America and University of Haifa and the 2015 Marshall Sklare Award for her contribution to the social scientific study of Jewry. She was decorated with the Officer's Cross of the Order of Merit of the Republic of Poland for her contribution to POLIN Museum and was recently elected to the American Academy of Arts and Sciences.
In 2018, she was awarded an Honorary Doctor of Humane Letters by Indiana University at its graduate commencement ceremony for outstanding achievement in the arts and humanities, and for community engagement and public service. Kirshenblatt-Gimblett was awarded the Dan David Prize in 2020. the prize serves to celebrate scholars and practitioners whose work illuminates the human past and can enrich public discourse with a deeper understanding of history. No more than nine individuals are recognized with this incredibly prestigious prize annually.