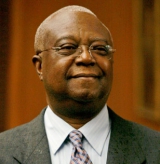 Awards
Honorary Degree (2018)

L.H.D.
Doctor of Humane Letters
IU Undergraduate Commencement
Bloomington, Indiana
Presenter: Michael A. McRobbie
About Amos Sawyer
Dr. Amos C. Sawyer has taught courses on the democratic process at the University of Liberia, written several books and articles, and spent nearly a decade at the Ostrom Workshop in Political Theory and Policy Analysis on the Indiana University Bloomington campus, collaborating with Elinor and Vincent Ostrom. Originally a professor, then a dean, at the University of Liberia, Sawyer earned degrees in political science and government from the University of Liberia and Northwestern University.
After a military takeover in Liberia in the 1980s, Sawyer headed the National Constitution Commission, charged with drafting a new constitution as the country transitioned to a democracy. He spoke out against military pressure on the commission's work and was imprisoned; he was forced to leave Liberia after his release. Exile would prove to be a period of growth for Sawyer, during which he spent much of his time at Indiana University as a research scientist, and later as a co-director, at the Ostrom Workshop.
Sawyer returned to Liberia in 1990, having been asked by the Interim Government of National Unity to serve as president of the country. He led the government for four years and has remained active in Liberian politics as a member of several organizations which are pro-democracy and work to guide the country's leadership. He served as chair of the Panel of Eminent Persons, which oversees the quality of governance in all member countries of the African Union, and was asked by Liberia's 24th president, Ellen Johnson Sirleaf, to become chair of the Governance Commission of Liberia.
In 2011, President Sirleaf awarded him the Grand Cordon of the Knighthood of the Most Venerable Order of the Pioneers, Liberia's highest distinction. Sawyer is also a recipient of the Gusi Peace Prize, awarded by the Gusi Peace Prize Foundation in the Philippines, in recognition of his contributions to global peace and progress. Sawyer was awarded Doctor of Humane Letters, an Honorary Degree from IU, in 2018 at its undergraduate commencement ceremony.