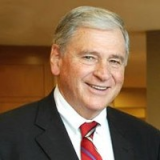 Awards
Honorary Degree (2018)

L.H.D.
Doctor of Humane Letters
IUPUI Commencement
Indianapolis, Indiana
Presenter: Michael A. McRobbie
About William G. Enright
Dr. William G. Enright is the Founding Karen Lake Buttrey Director Emeritus of Lake Institute on Faith & Giving. He is a former Senior Pastor of Second Presbyterian Church, Indianapolis, and a graduate of Wheaton College, Wheaton, Illinois; Fuller Theological Seminary, Pasadena, California; and McCormick Theological Seminary, Chicago, Illinois. Enright earned a Ph.D. from the University of Edinburgh, Scotland, and holds three D.D. (honorary) degrees from Hanover College (Hanover, IN), Dubuque Theological Seminary (Dubuque, IA), and Anderson University (Anderson, IN). Enright is a director of Lilly Endowment Inc. as well as a trustee of Hanover College. Currently a member of the Board of Trustees of the Foundation of the YMCA of Greater Indianapolis, in 2009 he also joined the Board of Directors of the Interfaith Youth Core, headquartered in Chicago, Illinois.
Enright's past civic involvement in Indianapolis includes serving as co-chair of the Mayor's Taskforce on Racism, member of Envisioning Indianapolis, the Police Advisory Board, the Board of Directors of the Central Indiana Council On Aging, the Wishard Hospital Foundation Board, the St. Vincent Hospital Advisory Board, and as past President of the Board of Directors of the YMCA of Greater Indianapolis. He has served as an Advisor for the National Cathedral Association of the National Cathedral in Washington D.C. He co-founded the Celebration of Hope, a program for racial reconciliation, which was recognized by President Clinton as one of ten national programs to be honored at the White House. He has also been honored by two Indiana governors with a Sagamore of the Wabash.
Enright has authored several books, the latest being Channel Markers. He has lectured at a variety of colleges, universities and theological institutions as well as business associations such as The Young Presidents and World Presidents organizations. In July 2005, he served as "preacher and chaplain" for the Chautauqua Institution in New York. In 2007, he delivered the annual John Conley Lecture on Medical Ethics to the American Academy of Otolaryngology which was later published in the Academy's journal.
In 2018, Indiana University awarded William G. Enright with an Honorary Doctor of Humane Letters at its spring commencement ceremony in Indianapolis, Indiana for his outstanding achievement in the arts and humanities, and for his continued community engagement and public service.