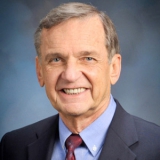 Awards
Bicentennial Medal (2020)
Honorary Degree (2018)

L.H.D
Doctor of Humane Letters
IUPUI Commencement
Indianapolis, Indiana
Presenter: Michael A. McRobbie
About Jerre L. Stead
Jerre L. Stead is CEO of Churchill Capital Corporation. He was Executive Chairman of IHS Inc. in 2000, and led the company to a very successful IPO by November 2005. Under his leadership, IHS has provided its shareowners a 31 percent compound annual growth rate since its IPO, and it has grown from $470 million to $2.2 billion since going public. In 1996 Stead became Chairman and CEO of Ingram Micro. Because of his vision and global expertise, Ingram Micro grew from an $8 billion dollar company to a $30 billion dollar company conducting business in over 120 countries.
Stead's career began in 1965 at Honeywell, Inc., where he spent 21 years and held a number of executive management positions in the United States and Europe. He returned to the United States as a group executive of the Homes and Buildings organizations in mid-1982. In 1987, he was named President and COO of the Square D Company, a manufacturer of electrical distribution and factory automation products. After being promoted to Chairman, President and CEO in 1988, he served the company through 1991.
In 1992, Stead became Chief Executive Officer of AT&T Global Business Communications Systems. He was promoted to Executive Vice President of AT&T and Chairman and CEO of AT&T Global Information Solutions (NCR Corporation) in 1993. In January 1995, Stead left AT&T to become Chairman and CEO of Legent Corporation. He resigned eight months later after a successful merger with Computer Associates providing the company's shareholders with an annualized return of 500 percent.
Stead is a graduate of the University of Iowa and of the Harvard University Advanced Management Program in Switzerland. He has served on 34 corporate boards during his career. In 2009 he was chosen as an outstanding director, one of 55 in the last 10 years by the Financial Times.
Mr. Stead has chaired 16 capital drives for nonprofit organizations, serves on the Salk Institute Board of Directors, and is Chairman of the Banner Alzheimer's Institute as well as Chairman of the board of Garret evangelical seminary.
In 2018, Indiana University awarded Jerre L. Stead with an Honorary Doctor of Humane Letters at its spring commencement ceremony in Indianapolis, Indiana for his outstanding achievement in the arts and humanities, and for his continued community engagement and public service.