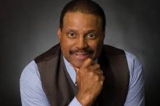 Awards
Honorary Degree (2018)

L.H.D.
Doctor of Humane Letters
IU Kokomo Commencement
Kokomo, Indiana
Presenter: Michael A. McRobbie
About Robert Knowling
A native of Kokomo, Indiana, and one of thirteen siblings, Bob Knowling is well known as a leader in the implementation of digital communications. He is an author, a mentor, volunteer and philanthropist.
Knowling earned athletic scholarships at Wabash College in Crawfordsville where he completed a BA in theology. He later completed an MBA from Northwestern University.
In 1977, Knowling began working at Indiana Bell, moving through departments and promotions and building his track record. After restructuring the entity once Indiana Bell merged with Ameritech he was promoted to Vice President of Network Operations. He moved on to US West in 1996 as their Executive VP of Network Operations and Technology. During the next two years, he pushed for the company's development of new internet-based services.
Covad hired him as Chairman, President and CEO in 1998. They were a Private Equity/Venture Capital backed start-up company located in Silicon Valley. Covad wase known in very few regions and only had 1,000 DSL broadband lines installed, bringing in annual revenue of $27,000. Knowling knew there was a much bigger market need for high-speed Internet connections and that Covad had the potential to become a major provider in this area. By the end of 1999, Covad had installed more than 100,000 lines between the summer of 1998 and the winter of 1999, and revenues had soared to $66.5 million. Knowling led the company through its rapid growth and Initial Public Offering to become the largest and most recognizable brand in the high-speed Internet access industry.
From 2003-2005, Knowling was CEO of the NYC Leadership Academy, an independent non-profit organization that is chartered with developing the next generation of principals in the New York City public school system.
He currently serves as chairman of Eagles Landing Partners, which specializes in helping senior management formulate strategy, lead organizational transformations, re-engineering businesses, and executive advising to CEOs. He has served on numerous corporate and non-profit boards. His book, "You Can Get There from Here: My Journey From Struggle to Success", was published in 2011.
In 2018, Indiana University awarded Robert Knowling with an Honorary Doctor of Humane Letters at its spring commencement ceremony in Kokomo, Indiana for his outstanding achievement in the arts and humanities, and for his continued community engagement and public service.