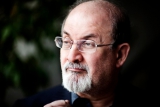 Awards
Honorary Degree (2018)

L.H.D.
Doctor of Humane Letters
India Remixed: Global Arts and Humanities Festival
Bloomington, Indiana
About Salman Rushdie
Salman Rushdie was born on June 19, 1947, in Bombay, India, the only son of a University of Cambridge-educated businessman and school teacher in Bombay. He was a student at King's College, University of Cambridge, where he studied history. After completing his M.A. from Cambridge, he lived in Pakistan with his family. He worked briefly as a television writer but returned to England, where for much of the 1970's he worked as a copywriter for an advertising agency.
Rushdie is best known for authoring "The Satanic Verses" in 1988. The controversial novel, which some in the Islamic community felt included a derisive depiction of Muhammad, led to protests, public rallies and the spiritual leader of Iran issuing a fatwa on Rushdie. Though he lived under police protection for several years because of the fatwa, Rushdie continued writing and publishing, including the children's book "Haroun and the Sea of Stories" in 1990, "The Moor's Last Sigh" in 1995 and "The Ground Beneath Her Feet" in 1999.
Rushdie has authored 13 novels, as well as several stories and works of nonfiction, during his more than 40-year career. His second novel, "Midnight's Children," launched Rushdie into the international literary scene, winning the 1981 Man Booker Prize and twice winning the Best of the Bookers award.
In 2018, Indiana University awarded Rushdie with an Honorary Doctor of Humane Letters at its India Remixed: Global Arts and Humanities Festival held in Bloomington.