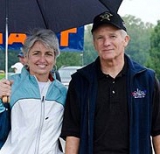 Awards
IUPUI Spirit of Philanthropy Award (2018)
About Jerry and Sharon Baker
Jerry and Sharon Baker have been helping IUPUI and the School of Public and Environmental Affairs for literally decades. Jerry's background boasts 42 years of service in law enforcement, including role of lieutenant and director of training at the IU Police Department. Sharon has worked at Fairbanks Hospital for 26 years as director of human resources and support services. Together, Jerry and Sharon share a tremendous loyalty and work ethic for greater good of the community.
Jerry and Sharon created a new legacy at SPEA to honor their son, Jason Matthew Baker, a Deputy Office who was killed in the line of duty on September 17, 2001, just days short of his 25th birthday. This scholarship is intended to support students who are pursuing careers in public safety at SPEA, a perfect reminder to everyone of Jason Baker's dedication to service, community and country.
Each year, the Bakers bring together community and public safety professionals in tribute to all heroes of public safety at the Beyond the Badge 5-K Run and Walk, an event that raises funds to aid the scholarship.