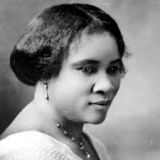 Awards
Chancellor and Provost Medallion (2018)

IUPUI Chancellor's Medallion
Indianapolis, Indiana
About Madam C.J. Walker
Madam C.J. Walker was the inventor of specialized hair products for African-American hair. She has the distinction of being one of the first American women to become a self-made millionaire.
Madam C.J. Walker, nee Sarah Breedlove, was born in 1867, near Delta, Louisiana. In 1905, after suffering her own hair loss due to a scalp disorder, she developed a line of hair care products for African-American women. She and her husband, Charles, traveled around the country, promoting her hair-care products and giving lecture-demonstrations on the use of pomade and heated combs. In 1908, she established Madame C.J. Walker Laboratories to produce her cosmetics and train sales beauticians. In 1910, she moved the business operations to Indianapolis. She soon became one of the first American women self-made millionaires. Madam Walker was well known for her philanthropy, which included generous donations toward the construction of an Indianapolis YMCA in 1913.
Madam C.J. Walker died on May 25, 1919, at age 51, at her estate home in Irvington-on-Hudson, New York. At the time of her death, she was sole owner of her business, which had a value of over $1 million.The Walker Building, an arts center that she had begun work on prior to her death, was opened in Indianapolis in 1927. The Walker Building is an important African-American cultural center, and is a registered National Historic Landmark. The United States Postal Service issued a stamp of Madam C.J. Walker in 1998 as part of its "Black Heritage" series.