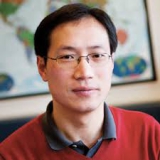 Awards
National Academies (2022)

American Association for the Advancement of Science
Titled Professor (2017)

Rudy Professor
About Xiaofeng Wang
Wang is a co-director of the Center for Security and Privacy in Informatics, Computing and Engineering, and was the director of the Master of Science in secure computing program. He is the director and lead principal investigator of the Center for Distributed Confidential Computing, a Frontiers Project in Secure and Trustworthy Computing funded by the National Science Foundation. The project is a multi-institution effort, involving faculty from IU (lead), CMU, Duke, OSU, Penn State, Purdue, Spelman and Yale.
In the past 20 years, Wang has been working on a broad range of research topics in systems security and data privacy. He is considered to be one of the most prominent systems security and privacy researchers, and a top author according to online statistics such as CSRankings, System Security Circus and Top Authors, the Systems Circus. Since joining IU in 2004, Wang has been serving as principal investigator on research projects totaling nearly $23 million.
Founded in 1848, AAAS is the world's largest general scientific society and publisher of the journal Science. The five faculty members' election brings the number of AAAS fellows affiliated with IU to 138. Election as a fellow is a lifetime honor bestowed upon AAAS members by their peers.