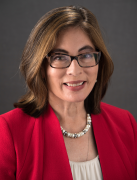 Awards
Leanne Grotke Award (2018)
About Wendy-Jo Toyama
Wendy-Jo Toyama was an all-around gymnast who represented IU in women's gymnastics from 1979 to 1983. She was women's gymnastics team captain in 1982 - 83 and received the Academic Athletic Honor Award in 1982 and 1983.
She received a B.A. in Fine Arts from IU in 1983, and an MBA from Northwestern University in 1991. Since leaving IU, she has enjoyed a diverse career working as an artist, corporate designer, and manager of advertising at the Tribune Company; director of marketing at Kohl Children's Museum; vice president of marketing/communications at the YMCA of Metropolitan Chicago; and senior vice president of membership at the American Dental Association. Since 2014, she has served as executive director of the American Cleft Palate - Craniofacial Association located in Chapel Hill, NC. She also serves as adjunct assistant professor at the UNC School of Dentistry.
She is a certified association executive with the American Society of Association Executives.