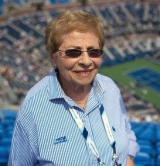 Awards
Leanne Grotke Award (2018)
About Phyllis A. Walker
As an IU student in the late 1940s, Phyllis "Woodie" Walker faced three career choices. Upon graduation from IU, she could become a teacher, a nurse, or a secretary. Instead, she became a legend in the field of tennis as a professional umpire.
Beginning her officiating career in 1968, Walker became manager of Tri-State Racquet Club in Evansville, Ind. in 1972. She was chief umpire of the U.S. Open from 1985 - 88 and served as chief tennis umpire at the 1996 Olympics in Atlanta. She presided over her last U.S. Open, at the age of 86, in 2014.
Walker has won numerous awards for her services to tennis, including a 2017 Special Recognition Award from the United States Tennis Association. Also in 2017, the Woodie Walker C.A.R.E. Award, a new USTA award, was presented at the U.S. Open in her honor. Even though she "officially" retired in January of this year, she still does consulting work for the USTA.