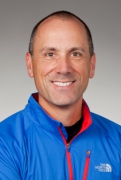 Awards
Distinguished Alumni Service Award (2018)
About Todd W. Spaletto
From an Indiana Pacers' internship, to vice president of sales for JanSport, to president of the North Face and now president of the outdoor and lifestyle group at Wolverine Worldwide, Todd Spaletto has had great success since graduating from the IU School of Public Health-Bloomington in 1993. While at the North Face, he increased sales revenue by over $1 billion and expanded the brand's global market opportunity from $25 billion to $180 billion.
Spaletto has also made broader contributions to society. He helped launch a campaign featuring a new recording of Woody Guthrie's iconic anthem "This Land is Your Land" by the band My Morning Jacket to inspire young people to protect, preserve and celebrate public lands.His innovative partnership with the U.S. Department of the Interior - a contemporary Civilian Conservation Corps - created more than 100,000 employment opportunities for young people, exposing them to the American outdoors in the process.
His efforts as an executive in sports marketing in encouraging people to pursue more physical activity has also helped influence the quality of life of the nation. His philanthropic engagement has aimed to inspire a new generation to return to nature and lead an attuned, active life.