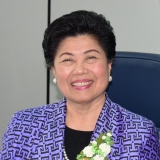 Awards
Distinguished Alumni Service Award (2018)
About Pusadee Piyakui Tamthai
To quell a leadership crisis and vacant governor's seat in Bangkok in 2016, the prime minister of Thailand chose Tamthai to govern the city's populace of over 8 million. Tamthai has proven herself to be a trustworthy and experienced civic manager. Her appointment underscores the respect she has garnered throughout a life dedicated to championing the role of education in improving social conditions.
Born in Trang Province, Thailand, in 1951, Tamthai came to Bloomington on a UNESCO scholarship, earning a Master of Arts for Teachers degree in general science and a Ph.D. in science education. From 1971 to 1993, she served as a science educator at Kasetsart University in Bangkok and helped develop the curriculum for the Thai government agency, the Institute for Promotion of Teaching and Science. She then became a founding committee member of the New International School of Thailand, for which she was also the founding headmistress.
While at the New International School, she embarked on a 30-year political career. Her focus has often been on the role of disenfranchised people, particularly the rights of women, children, the elderly and the differently abled.
Like former IU President Herman B Wells, Tamthai has been honored with the Thai Order of the White Elephant and has also been an outstanding ambassador for Indiana University.