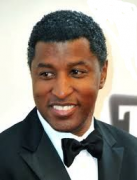 Awards
Honorary Degree (2018)

D.Mus.
Doctor of Music
Bloomington, Indiana
About Kenneth Babyface Edmonds
Kenneth "Babyface" Edmonds, a native of Indianapolis, Indiana, is an award-winning singer, prolific songwriter, and innovative producer. He is best known for having written/co-written hits for recording artists such as Whitney Houston, Eric Clapton, P!nk, Beyoncé, Michael Jackson, and many others. Edmonds' hit list includes Eric Clapton's "Change the World," and Madonna's "Take a Bow." Among his most recent productions include collaborations with Bruno Mars, Celine Dion, Johnny Mathis, Barbra Streisand, Celine Dion, Jennifer Hudson, and Toni Braxton.
Edmonds has accumulated more than 200 top 10 R&B and over 50 top 10 pop hits (including 16 No. 1's). Those stats have ultimately generated cumulative single and album sales of more than 600 million units worldwide. He has won numerous awards and honors including the Soul Train Music Awards, BMI Awards, NAACP Image Awards, American Music Awards, BET Walk of Fame Award, received a star on the Hollywood Walk of Fame in 2013, and was inducted into the 2017 Songwriter's Hall of Fame.
Edmonds is a passionate philanthropist active in supporting Carousel of Hope, which benefits the Children's Diabetes Foundation, Barbara Davis Center for Childhood Diabetes, and Larry Ruvo's "Keep Memory Alive." He has also lent his support to FasterCures, VH-1 Save the Music, United Negro College Fund, Boarder Babies, The Little Blue House (in Washington, D.C.), the David Foster Foundation, and the Mike Milken Prostate Cancer Foundation.
In 2018, Indiana University awarded Kenneth Babyface Edmonds with an Honorary Doctor of Music in Bloomington, Indiana, for his outstanding achievement to the arts and humanities, but most particularly on the basis of his substantial portfolio of compositions.