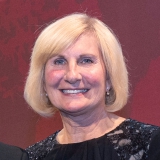 Awards
School of Education Distinguished Alumni Award (2018)
About Judith A. DeMuth
Dr. Judith A. DeMuth is superintendent of the Monroe County Community School Corporation. She began as MCCSC superintendent in July 2011 after serving six years as superintendent of the La Porte County Community School Corporation and two years as superintendent of the Richland Bean-Blossom School Corporation. DeMuth served as assistant superintendent for personnel and business, director of personnel/labor relations, high school principal and middle school assistant principal, teacher, coach and assistant athletic director.
DeMuth earned her Ed.D. in Educational Leadership from Indiana University, an Ed.S. in Educational Leadership from Purdue University, an M.A. from Ball State University and her B.S. from Indiana University.
She is a member of the Indiana Urban School Association, Indiana Association of Public School Superintendents, IU Partnershare, Bloomington Economic Development Corporation, Bloomington Chamber of Commerce/Legislative Council, Bloomington Rotary, and American Association of School Administrators.
DeMuth recently served as president of the Region IV - Indiana Public School Study Council. She is a La Porte Chamber Athena award winner, recipient of the Bloomington Chamber's Franklin Initiative 2016 Lifetime Achievement award and 2017 Bloomington Woman of the Year.