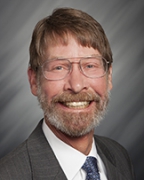 Awards
Bicentennial Medal (2019)
Maurer School of Law Distinguished Service Award (2018)
About Timothy J. Riffle
Timothy J. Riffle is a partner in the Indianapolis office of Barnes & Thornburg LLP, where he serves as the chair of the Tax Section of the Corporate Department.
Although Riffle practices primarily in the area of federal taxation, he has had extensive experience in structuring business combinations, new business formations, passthrough entities (partnerships, S corporations, and LLCs) and tax exempt organizations. Riffle represents individuals and families in the areas of charitable giving, foundations, gift and estate taxation and universities, hospitals, museums and other non-profit organizations in tax exemption and unrelated business income tax matters.
He is a member of the Taxation Section of the Indiana State and the Indianapolis Bar Associations, and served as president of the Indianapolis Bar Association's Taxation Section in 1997. A member of the American Bar Association and its Real Property, Probate and Trust Law and Taxation Sections, he is co-author of the Indiana Limited Liability Company Forms and Practice Manual (Data Trace Publishing, 1996). He is listed in Best Lawyers in America and was named "Lawyer of the Year" by Best Lawyers in the 2015 and 2018 editions.
Riffle graduated in 1980 from Indiana University and in 1983 received his J.D., magna cum laude, from the Indiana University Maurer School of Law. He joined Barnes & Thornburg in 1983 and became a partner in 1991.
Riffle maintains a close affiliation with the Bloomington campus of Indiana University, where he served as a member of the Maurer School of Law Alumni Board and of the Collins LLC Alumni Board. He is a member of the Indiana University Alumni Association Well House Society and the Presidents Circle of the Indiana University Foundation and the Indiana University Varsity Club. He also served as an adjunct professor of law at the Maurer School of Law. In 2019, Riffle was awarded Indiana University's Bicentennial Medal, in recognition of his distinguished contributions and longstanding friendship with the university.