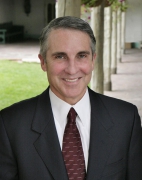 Awards
Honorary Degree (2018)

D.Mus
2018 Winter Commencement
Bloomington, Indiana
About Charles MacKay
Charles MacKay, a graduate of University of Minnesota, had a 6-year tenure as director of finance and administration for the Spoleto Festival USA, from 1978 to 1984. In 1984, he became the executive director of Opera Theatre of Saint Louis. During his tenure, MacKay presided over the growth of OTSL's endowment from $682,000 to $18 million, and maintained the company's record of never posting a deficit. For five years, he served as the manager for the American artists at the Festival of Two Worlds in Spoleto, Italy. In late 2007, he returned to Santa Fe to become the Opera's general director. He has also collaborated across the U.S. on productions with opera companies such as the Metropolitan Opera, the Minnesota Opera and Opera Philadelphia.
MacKay had begun volunteering with the Santa Fe Opera (SFO) in New Mexico at the age of 15. It may be said that his career in the opera officially began as a French horn player in the orchestra at 18, playing in the offstage Band in Der Rosenkavalier. So determined was he to play in the opera orchestra, he was awarded a seat in just a few years, graduating to the real orchestra pit. Under the tutelage of SFO founder, John Crosby, MacKay worked in administration, served as orchestra librarian, and painted stage scenery with the opera.
In August of 2018, The Santa Fe Opera not only marked its 50th anniversary of MacKay's first summer at the Opera, but it also received news of his retirement, wrapping up ten years as general director, and twenty years of cumulative service. SFO presented five world premieres during MacKay's tenure, including Cold Mountain (opera) by Jennifer Higdon (2015) and The (R)evolution of Steve Jobs by Mason Bates (2018).The Santa Fe Opera company's net assets grew to more than $100 million and the annual operating budget is $24 million. MacKay also expanded the opera's community outreach efforts and its young apprentice program. His appreciation for people and for community, qualities encouraged by his mentor, John Crosby, helped to build a volunteer force of 1,400 for the Santa Fe Opera, in the state of New Mexico alone.
In 2018, Indiana University awarded Charles MacKay with an Honorary Doctor of Music at its winter commencement ceremony in Bloomington, Indiana for his outstanding achievement to the arts and humanities.