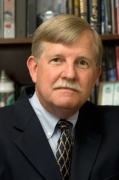 Awards
President's Medal for Excellence (2019)

Bloomington, Indiana
About Jeffrey Linder
During his many years of public service, Linder served as an Indiana state representative for District 57 from 1990 to 2000. While serving in the General Assembly he served as Republican whip, as chair of the Republican Caucus, on the Committee on Joint Rules and as chair of the Ethics Committee.
In 2000, he was a candidate in the primary race for Indiana's 2nd Congressional District and later worked at Ball State University as associate vice president for government relations and as vice president of government affairs at Clarian Health Partners, now IU Health.
Linder joined IU in 2009 as associate vice president for public affairs and government relations.