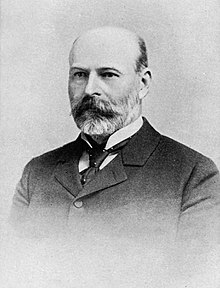 Awards
National Academies (1886)

American Association for the Advancement of Science
About John Branner
John Casper Branner was an American geologist and scientist who discovered bauxite in Arkansas in 1887 as state geologist for the Geological Survey of Arkansas. He was chair of the Departments of Botany and Geology at Indiana University and later at Stanford University. He joined David Starr Jordan at Stanford University where he was a founding member of the faculty and later succeeded Jordan as the university's second president. He served as president of the Geological Society of America in 1904. He was president of the Seismological Society of America in 1911. Branner was an expert in Brazilian geology, among other areas.
Branner was born July 4, 1850 in New Market, Tennessee, where his father was a merchant. He spent a year at Maryville College before leaving that institution and enrolling at Cornell University. In 1875, he became assistant on the geological survey of Brazil and remained on that work until the survey was abolished by the government. In 1879, he accepted a position as assistant engineer and interpreter for the São Cyriaco Gold Mining Company of Boston, and spent a year near Serro, state of Minas Geraes, in the diamond regions of Brazil. In 1882, he returned to Cornell University, completed his studies and graduated. In 1883 to 1885, he was topographic geologist of the Geological Survey of Pennsylvania in the anthracite regions; in 1885, after receiving his Ph.D. from Indiana University, he was made professor of geology at Indiana University, a position he held until 1891, though he was absent on leave for several years.
In 1887, he was appointed state geologist of the Geological Survey of Arkansas. From 1891 to 1916 he was professor and later president at Stanford University. While at Stanford he directed the Agassiz-Branner expedition to Brazil in 1899 and a second similar expedition in 1907-1908. He served on government commissions studying the Panama Canal and the 1906 San Francisco earthquake. He published a grammar of the Portuguese language, based on his work in Brazil, which went to multiple editions. A dormitory building and the Branner Earth Sciences Library at Stanford are named after him and an extinct species of crab found in California, Cancer branneri, was named after him in 1926.
Branner died March 1, 1922.