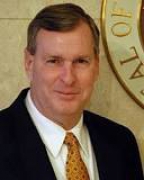 Awards
Chancellor and Provost Medallion (2019)

IUPUI Chancellor's Medallion
Indianapolis, Indiana
Presenter: Nasser H. Paydar
About Greg Ballard
A native of Indianapolis, Greg Ballard is a graduate of Indiana University. During his 23 years of military service, he completed a masters degree in military science from the Marine Corps University, and also graduated from the Marine Corps Command and Staff College. In 2007, after his retirement from the Marine Corps, he returned to Indianapolis and served two terms as mayor of the city.
Among Ballard's achievements while in office was his oversight of the RebuildIndy Initiative, which was a $55 million infrastructure improvement program. He also established the city's first Office of Sustainability.
Ballard will long be remembered by Indiana University for his foresight, in 2014, for: connecting IUPUI to its surrounding communities; overseeing the beautification of campus; and the timely renovation to the IU Natatorium.