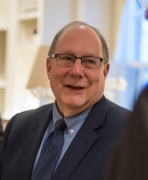 Awards
Thomas Hart Benton Mural Medallion (2019)

Bryan House Dinner
Bloomington, Indiana
Presenter: Michael A. McRobbie
About Bob Zaltsberg
Bob Zaltsberg served for more than three decades as editor of the Bloomington, Indiana, Herald-Times. On March 5, 2019, President Michael A. McRobbie awarded him with the University's Thomas Hart Benton Mural Medallion.
Retired as of January of 2019, Zaltsberg had worked at the Herald-Times since 1975, first as a reporter, and later as city editor and managing editor. He was named editor of the newspaper in 1985. Under his direction, the Herald-Times won the Blue Ribbon Daily Award in multiple years for best daily Indiana newspaper. In addition to his work on the newspaper, Zaltsberg also hosted a weekly public affairs radio program on WFIU titled, Noon Edition.
Zaltsberg also served on several state and regional newspaper boards, and is currently teaching part-time at The Media School at IU Bloomington. Zaltsberg is a graduate of Miami University, Oxford, Ohio.