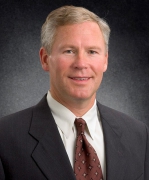 Awards
College of Arts and Sciences Distinguished Alumni Award (2019)
About Kenneth F. Buechler
Kenneth F. Buechler, a co-founder of Biosite Inc., received a B.A., 1975 in Chemistry; and an M.S. (1979); and PhD (1981) from IU's College of Arts and Sciences Department of Biochemistry. Buechler has served as president and chief scientific officer and is a co-inventor of multiple proprietary technologies that have advanced rapid point-of-care medical diagnostics.
Prior to co-founding Biosite, Buechler served as a senior research scientist at Hybritech Inc., where he was the project leader for cardiac biomarker assays. He was also responsible for the design and synthesis of reagents for use in the first rapid, visual pregnancy test.
The University of California, San Diego, honored Buechler in 2015 for advancements in cardiovascular care, namely, the commercialization of the first immunoassay to measure B-type natriuretic peptide (BNP), which has since transformed the way doctors diagnose and assess patients with congestive heart failure.
Buechler currently serves as chairman of the board of Quidel Corp. and is a board member of the Rady Children's Institute for Genomic Medicine and the UC San Diego Sulpizio Cardiovascular Center Directors' Council. He is former chairman of the board for Sequenom Inc. and served on the boards of Edico Genome Inc., Sotera Wireless Inc., and Astute Medical Inc.