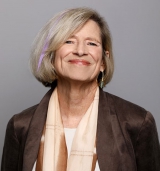 Awards
College of Arts and Sciences Distinguished Alumni Award (2019)
Bicentennial Medal (2019)
About Dyan Sublett
Dyan Sublett completed a Bachelors of Arts degree in 1973 from IU's College of Arts and Sciences English Department. Now president of the MLK Community Health Foundation, Sublett has nearly forty years of experience obtaining philanthropic support for South Los Angeles' Martin Luther King Jr. Community Hospital. Sublett, MLK's Community Health Foundation's founding executive, also serves as the hospital's chief communications officer and is a member of its executive team.
Sublett also served as executive vice president of the YMCA of Metropolitan Los Angeles, the fifth largest YMCA association in the world. Under her direction, the YMCA took in $120 million in contributed revenue and received eight North American YMCA communications awards. During her lengthy career in philanthropic endeavors, Sublett was senior vice president for advancement and communications at the Los Angeles Natural History Museum, senior vice president for institutional advancement at Art Center College of Design, vice president for development at the Sundance Institute, and senior development director at the University of California, Los Angeles, where she co-founded and directed UCLA's Women and Philanthropy Program.
Sublett's accomplishments in the area of women and philanthropy stands as a model for nonprofits nationwide. She is a contributing writer to Women as Donors, Women as Philanthropists, a commentator for the Chronicle of Philanthropy and Inside Philanthropy, and is frequently speaks on behalf of the nonprofit sector. Sublett earned a Master of Fine Arts degree in creative writing from the University of Massachusetts. She has published works in literary journals, and was named a poetry fellow by the Massachusetts Artists Foundation.