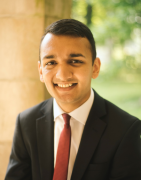 Awards
Kate Hevner Mueller Outstanding Senior Award (2019)
About Krishna Pathak
With an expected graduation year of 2019, Krishna Pathak is a student in the School of Public and Environmental Affairs, concentrating in national and homeland security. He was one of 21 seniors to receive the Kate Hevner Mueller Award in 2019. Pathak is an Associate Justice of the IU Student Government and serves as president of TEDxIndianaUniversity, the annual student-organized TED conference at IU Auditorium. While at IU, Krishna has been active with the IUSA Election Commission, Model United Nations, and 180Degrees Consulting.
Pathak's internship in the Office of the Secretary of Defense in the U.S. Department of Defense in the summer of 2017 allowed him to collaborate with military embedded staff to manage physical correspondence between Department of Defense and congressional armed services committees. In the fall semester of 2017, while interning in the Office of the Mayor of Bloomington, Indiana, he organized city e-management platforms to streamline tracking of budget goals and policy milestones, and co-drafted talking points and remarks for the mayor at official events. During the spring of 2018, while interning at the U.S. Office of Homeland Security, Pathak briefed the Secretary, Deputy Secretary, and other senior Department of Homeland Security officials on national security matters.
Pathak is currently exploring graduate programs and full-time opportunities in national security and international relations.