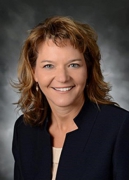 Awards
Bicentennial Medal (2020)
Chancellor and Provost Medallion (2019)

IU Southeast Chancellor's Medallion
New Albany, Indiana
Presenter: Ray Wallace
About Wendy Dant-Chesser
Wendy Dant-Chesser received her Bachelor of Science in business management from Indiana University Southeast in 1991. She serves as President and CEO of One Southern Indiana, an organization dedicated to providing the connections, resources and services that help businesses innovate and thrive in the region.
Dant-Chesser served as president of Cornerstone Alliance in Michigan, an organization very similar to One Southern Indiana. Spanning seven years in Indiana, she has worked in various aspects of economic development, spending the last year of her government career as deputy executive director for Program Operations of the Indiana Department of Commerce.
After serving as legislative chair for three years, Dant-Chesser serves as chairperson for the Indiana Economic Development Association. Locally, she presides on the Boards of Directors for the Kentucky Derby Festival, the Louisville Zoo Foundation, Ivy Tech-Sellersburg Trustees, Greater Louisville, Inc., Align Southern Indiana, Falls of the Ohio Foundation and Louisville's Regional Airlift Development. She was named one of North America's Top 50 Economic Developers of 2015 by Consultant Connect, a consulting agency designed to bridge the gap between economic developers and site consultants. The Indiana Economic Development Association awarded her the "Economic Development Professional of the Next Half-Century" in June 2018. In 2016, her Indiana peers named her the "Chamber of Commerce Executive of the Year."
In 2020, Wendy Dant-Chesser was presented the Bicentennial Medal for her distinguished service to Indiana University.