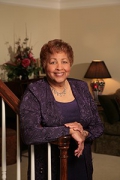 Awards
Chancellor and Provost Medallion (2019)

IU Southeast Chancellor's Medallion
New Albany, Indiana
Presenter: Ray Wallace
About Alice Miles
Alice Miles, a native of New Albany, Indiana, received a Bachelor of Science degree in Nursing from Nazareth College. She worked as a nurse for several years before becoming the Multi-Cultural Outreach Specialist with the Community Foundation of Southern Indiana (CFSI) in 2007, where she developed a Multi-Cultural Outreach Council (MCOC), including ethnically diverse persons representing the areas of education, business, community volunteers and community residents.
Miles has served as president of several organizations including Altrusa International Club of New Albany, which focuses on literacy in the local community, and Friends of the Town Clock Church, which is responsible for the restoration of Second Baptist Church, known to have a historically significant connection to the Underground Railroad. She is a founding member of the Women's Foundation of Southern Indiana (WFSI) and served as its president from 2009-2011. Miles has been a member of the Floyd County Health Board since 2006 and has also served on the board of Friends of Division Street School, which works to preserve and maintain the restoration of one of the oldest remaining African American schools in Indiana.
Miles was the recipient of the Anna Katherine Hickerson Diversity Award, the Woman of Distinction Award from the Center for Women and Families, The New Albany Floyd County Schools Award of Appreciation, and she was inducted into the New Albany High School Hall of Fame. In 2017, Miles and her husband, Jerry, were the first couple to receive the New Albany Rotary Club Toast Award.