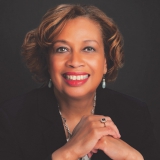 Awards
Kelley School of Business Academy of Alumni Fellows (2019)
About Fay Ferguson
Fay Ferguson holds an MBA from the Kelley School of Business at Indiana University (1978) and a bachelor of arts degree from Concordia College. She is the founder of Allies of Innocence, an organization dedicated to providing grief and trauma counseling free of charge to survivors of gun violence in Chicago. Her awards include Chicago Advertising Woman of the Year, the Chicago Advertising Federation's Silver Medal Award, and Advertising Working Mother of the Year. She was inducted into the History Makers, an honor bestowed to individuals who have achieved lifetime recognition for work in their fields.
As co-CEO and co-owner of Burrell Communications Group, a privately held advertising and marketing solutions company, Ferguson is responsible for the vision, direction, and health of the organization. She held positions at Leo Burnett and Bozell & Jacobs, two general market agencies where she honed her skills on CPG brands such as Kellogg's, Pillsbury, and Alberto Culver before joining Burrell Communications Group.
Ferguson established an endowment scholarship for diverse students at her alma mater, Concordia College, and a Navy Supply Corps Foundation Scholarship in honor of her late son Eric, who served as a lieutenant in the US Navy.