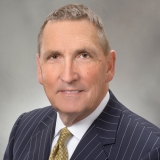 Awards
Kelley School of Business Academy of Alumni Fellows (2019)
About Michael F. Petrie
Michael F. Petrie is a 1979 graduate of the Kelley School of Business at Indiana University, where he majored in finance. He also received his MBA in 1983 from Kelley. In 1999, Michael earned his Certified Mortgage Banker designation (CMB) and in 2004 received the Accredited Mortgage Professional Designation (AMP). Petrie is chairman and CEO of Merchants Bancorp and Merchants Bank of Indiana, a $3.9 billion bank headquartered in Carmel, Indiana. Michael also serves as chairman and CEO of Merchants Capital Corp. (MCC), founded in 1990 with his business partner, Randall Rogers. MCC is a mortgage banking firm specializing in multifamily housing and healthcare facilities finance. MCC has closed more than $13.8 billion in loans and currently services loans in excess of $10 billion.
Petrie is active in the industry and in the community, currently serving on the board of directors for the Indianapolis Chamber of Commerce, the Indiana Affordable Housing Council (IAHC), and the Indianapolis Neighborhood Housing Partnership (INHP). He also serves on the national board for the IU Varsity Club and the advisory board for the IU Center for Real Estate Studies. He is the founder and chairman emeritus of Merchants Affordable Housing Corp, a 501c3 not-for-profit affordable housing provider operating more than 2500 units in Indiana.In 2005, Petrie served as chairman of the board of directors of the Mortgage Bankers Association, Washington, D.C.
In 2004, he was awarded the "Sagamore of the Wabash," and in 2014, he was bestowed the Joe Rhodes Memorial Award by the Apartment Association of Indiana.