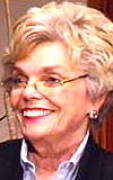 Awards
President's Medal for Excellence (1989)

IUB Commencement Dinner
Bloomington, Indiana
Presenter: Thomas Ehrlich
Distinguished Alumni Service Award (1987)
About Jill Strickland Ruckelshaus
Jill Strickland Ruckleshaus graduated from Indiana University with a Bachelor of Arts degree in 1958. She attended graduate school at Harvard and then taught English.
Ms. Rucklehaus was named Assistant to the President for Women's Affairs in the Nixon administration, a member and vice president of the United States Commission on Civil Rights, and presiding officer for the International Women's Year Commission, and won applause from both liberals and conservatives.
She is a trustee emerita from the University of Pugent Sound and has also worked as an executive for Costco Wholesale and Lincoln National.