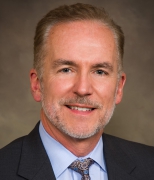 Awards
Honorary Degree (2019)

L.H.D
Doctor of Humane Letters
IU East Spring Commencement Ceremony
Richmond, Indiana
Bicentennial Medal (2019)
About Craig Kinyon
Craig Kinyon holds a B.A. in accounting from Grove City College in Grove City, Pennsylvania, and has been a certified public accountant since 1987. He joined the Reid Health team in Richmond, Indiana in 1995 as Vice President and CFO. Prior to joining Reid, he was CFO at Fayette Memorial Hospital, Connersville, Indiana. Kinyon became Reid Health's President and CEO in 2008. Reid Health's hospital campus, located adjacent to IU East, is the largest employer in the region. Reid Health provides clinical experiences for IU's nursing students as well as internship opportunities for students with a variety of majors. It also partners with IU East in offering education rotations for IU School of Medicine third- and fourth-year clerkship students; it provides a free, full-time athletic trainer for IU East athletics; and it has given nearly $350,000 in philanthropic support to IU East over the past 10 years.
Kinyon serves on the IU East Board of Advisors as well as other key governing bodies in the region. He is the treasurer of the Preble County, Ohio, Development Partnership board, and is vice president of the board of Crossroads Health Services Reciprocal, a board member of the Earlham College Community Partnership, the West End Bank, the Indiana Chamber of Commerce, Vizient Central, and the Tecumseh Health Reciprocal Risk Retention Group. Kinyon also serves on committees of Richmond's Alliance for Strategic Growth, the American Hospital Association, and the Indiana Hospital Association. He has received several honors for his leadership role at Reid Health, including the American Hospital Association's Grassroots Champion Award, which recognizes hospital leaders who most effectively educate elected officials on how major issues affect the vital role of hospitals in the community.
Indiana University awarded Kinyon with an Honorary Doctor of Humane Letters at IU East's 2019 Spring commencement ceremony for his outstanding achievement in the arts and humanities, and for his commitment to community engagement and public service.