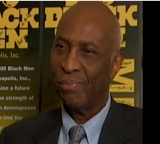 Awards
Honorary Degree (2001)

D.S.
Doctor of Science
2001 Commencement Ceremony
About George H. Rawls
George H. Rawls graduated in 1948 with a BS Biology, from Florida A & M University, Tallahassee. In 1952, he completed a medical degree at Howard University, Washington, D.C. After serving two years in the U.S. Army and completion of his surgical residency at the Ohio State University, Rawls became one of the first black physicians to practice surgery in Indianapolis in 1959, where he continued to serve his community for more than three decades. He served as assistant dean of student affairs and clinical professor of surgery for five years at the IU School of Medicine before he retired as Clinical Professor Emeritus of Surgery.
Rawls is former president of the Indianapolis and Indiana State Medical Societies and former delegate to the National Medical Association and American Medical Association. He has authored several books about the history of blacks in medicine in Indianapolis, served as chairman and co-chairman of the Life Membership Committee of the NAACP for 30 years, and was a past president of the Aesculapian Medical Society.
The Rawls Scholars Medicine Initiative honors his tireless efforts to raise awareness of the need for a increased representation of minorities in the medical professions. His legacy has been to facilitate both the admission and graduation of minority candidates to IU School of Medicine.
In 2001, Indiana University awarded Dr. George H. Rawls with an Honorary Doctor of Science degree. He has received two Sagamore of the Wabash awards, the state of Indiana's highest civilian honor. He was also one of 125 alumni honored at Florida A & M at its 2012 Homecoming Gala. for outstanding achievements, financial support and service to the National Alumni Association.
His local civic engagements include service on the boards of the Indianapolis Children's Museum, Urban League, Flanner House, Goodwill and Indianapolis Zoo. Rawls also serves as an elder at Witherspoon Presbyterian Church and is a member of Alpha Phi Alpha Fraternity Inc., and the 100 Black Men of Indianapolis.