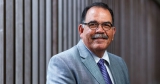 Awards
School of Public Health David Gallahue Champion Alumni Award (2020)
Bicentennial Medal (2019)
About Rafael Bahamonde
Rafael Bahamonde is the founding dean and professor of kinesiology in the School of Health and Human Sciences at IUPUI. Bahamonde earned a bachelor's degree from DePauw University, M.P.E. from Indiana State University, and a Ph.D. from Indiana University Bloomington. Bahamonde's research interests are in sport and clinical biomechanics, gait analysis, injury prevention, and sport equipment testing.
Bahamonde is a fellow of the American College of Sports Medicine (ACSM) and the International Society of Biomechanics in Sports (ISBS). He has been involved in the promotion of undergraduate research and the advancement of the underrepresented minorities in higher education. He was the director of the Diversity Scholars Research Program at IUPUI and has been involved as a mentor in a multitude of programs. He is a member of the leadership team of Louis Stokes Midwest Center for Excellence and the recent National Institutes of Health IUPUI Graduate Preparation for the Biomedical and Behavioral Sciences. In 2010 he received the IUPUI Center for Research and Learning Director Mentoring Award for outstanding leadership and mentoring of undergraduate research.
Bahamonde received the IU Bicentennial Medal in August 2019 in recognition of his distinguished service as Dean of the School of Health and Human Sciences at IUPUI.