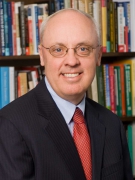 Awards
President's Medal for Excellence (2019)

Reception for John D. Graham
Bloomington, Indiana
Presenter: Michael A. McRobbie
About John D. Graham
John Graham became dean of the unique two-campus, $56 million professional school, the Indiana University O'Neill School of Public and Environmental Affairs on July 28, 2008. He served as dean until August 1, 2019, and continues on as a faculty member.
During Graham's tenure as dean, the School's enrollment grew to more than 2,100 undergraduate students, nearly 600 master's students, and nearly 80 doctoral students. Additionally, under his deanship, O'Neill's Master's in Public Affairs Program on the Bloomington campus rose to No. 1 out of 272 programs in the 2016 U.S. News and World Report national survey. He raised more than $37 million in philanthropic support for the school, and with faculty, staff, students, alumni, and donors, implemented a strategic planning process to guide the School, resulting in the publication of SPEA 2015. During his tenure, student enrollment in overseas study programs has tripled and the first fully online MPA program offered by a top graduate school in public affairs, O'Neill Online, was launched.
Graham received a B.A. in politics and economics from Wake Forest University in 1978, an M.A. in public policy from Duke University in 1980, and a Ph.D. in urban and public affairs from Carnegie-Mellon University in 1983. He joined the Harvard School of Public Health as a postdoctoral fellow in environmental science and public policy in 1983, was appointed assistant professor in 1985, and earned tenure in 1991. From 1990 to 2001, he founded and led the Harvard Center for Risk Analysis (HCRA). In March 2001, President George W. Bush nominated him to serve as Administrator, Office of Information and Regulatory Affairs, Office of Management and Budget. He was confirmed by the Senate in July 2001. Before coming to IU, he was dean of the Frederick Pardee RAND Graduate School (PRGS) at the RAND Corporation in Santa Monica, California, from 2006 to 2008.