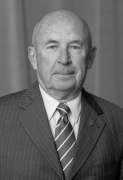 Awards
Bicentennial Medal (2019)
Chancellor and Provost Medallion (2019)

IUPUI Chancellor's Medallion
Indianapolis, Indiana
Presenter: Nasser H. Paydar
About Philip N. Eskew, Jr.
Philip N. Eskew Jr. is an IU alumnus and former member of the IU Board of Trustees. Eskew earned a B.A. in pre-medical sciences from DePauw University, where he played football, ran track, and was a member of the Beta Theta Pi fraternity. He went on to earn an M.D. from the IU School of Medicine in 1970.
After medical school, Eskew spent six years as a captain in the United States Army Reserves, earning the Army Commendation Medal. Eskew was the founder and managing senior partner from 1974 to 1994 at the Carmel, IN., OB/GYN, Inc. He worked at St. Vincent Hospital in Indianapolis for over two decades, serving as the OB/GYN Residency Program director (1994-1999), and medical director of Women and Infant Services (2004-2007). Eskew was a volunteer clinical professor of obstetrics and gynecology at the Indiana University School of Medicine, rising from clinical assistant professor (1989-1995) and clinical associate professor (1996-2004) to clinical professor (2004-2013).
In 2006, the year before his retirement from private practice, Eskew was elected by the alumni of Indiana University to serve on its board of trustees. While on the board, he served as chair of the Long Range Planning Committee (2006-2009) and chair of the Facilities Committee (2009-2018). He was re-elected three times. In addition, he has served on the IUPUI Board of Advisors, the IU South Bend Board of Advisors, and the Varsity Club National Board of Directors. Eskew has also served in many capacities in professional and civic organizations including the American College of Obstetricians and Gynecologists, the American Medical Association, and Rotary International. Eskew has served on the Carmel City School Board, the Carmel Clay Parks and Recreation Board, and the board of directors of the McDowell House of Danville, Kentucky.
Eskew has been recognized with many awards and commendations throughout his career. He has received the American College of Obstetricians and Gynecologists Distinguished Physician Award, the Distinguished Physician Award from the St. Vincent Hospital, and the Burgess L. Gordon Memorial Award from the American Medical Association. He was inducted into the Indiana Basketball Hall of Fame in 1997. A colonel and battalion surgeon with the Indiana Guard Reserve, Eskew was recognized by the governor in 2011 with the Indiana Commendation Medal for service to the Indiana Guard Reserve, and, in 2014, the Indiana Guard Reserve Merit Medal. Eskew was named a Sagamore of the Wabash in 1996. He has been an active member and former president of the DePauw University alumni board.
Eskew received the IU Bicentennial Medal in September 2019 in recognition of his service as a former trustee of the IU Board of Trustees.