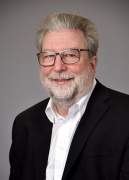 Awards
Distinguished Professor (2020)
Bicentennial Medal (2020)
About Loren J. Field
Loren J. Field joined the Indiana University School of Medicine in 1990 and currently serves as a professor of medicine, physiology and biophysics, and pediatrics. In 1998, he became the director of the Cardiac Developmental Biology Group of the Wells Center for Pediatric Research. Field's work has centered on the "Holy Grail" of cardiovascular research - understanding and developing novel strategies to promote cardiomyocyte renewal - with the ultimate aim of regenerating diseased hearts. His laboratory provided the first proof-of-concept data showing that genetic interventions can be used to enhance the rate of cardiomyocyte renewal. Collectively, his studies have shown that cardiomyocyte cell cycle activity can reserve experimentally induced myocardial injury with a concomitant functional improvement. He has also conducted groundbreaking research in the area of stem cell biology. With collaborators, Field established the potential utility of cardiomyocytes derived from the embryonic stem cells (ESC), or ESC-like cells for intramyocardial engraftment.
Renowned for his commitment to the highest standards of scientific ethics and a rigorous approach to science, he has published 156 papers and delivered nearly 400 presentations and departmental seminars around the world. He is a member of the American Association for the Advancement of Science and the New York Academy of Sciences. He has served as a visiting professor and reviewer in Germany, Switzerland, Israel, the United Kingdom, and Canada. Field has also served on the editorial boards of many significant scientific journals.
Field received the IU Bicentennial Medal in August 2020 in recognition of his distinguished contributions to Indiana University.