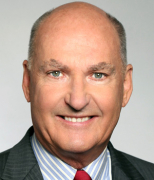 Awards
President's Medal for Excellence (2020)

IU Men's Basketball Game
Bloomington, Indiana
Presenter: Michael A. McRobbie
About James E. Delany
James E. Delany served as the collegiate Big Ten Conference commissioner from 1989 to 2020. He played a pivotal role in the expansion of college athletics and the Big Ten Conference. Educated at the University of North Carolina at Chapel Hill, Delany received a bachelor's degree in political science in 1970 and a J.D. in 1973. While a student, Delany played basketball for the Tarheels reaching two NCAA Final Fours and was co-captain of the team his senior season.
After completion of his law degree, Delany spent a year serving as counsel to the North Carolina Senate Judiciary Committee, followed by a short stint as a staff attorney for the North Carolina Justice Department. He returned to the collegiate athletic world in 1975 accepting a position as an enforcement representative for the National Collegiate Athletic Association. In 1979, he was named the commissioner of the Ohio Valley Conference, and in 1989 was appointed commissioner of the Big Ten Conference.
During Delany's tenure at the Big Ten Conference he oversaw the expansion of the conference to include Penn State University (1990), and a further expansion with the addition of the University of Nebraska (2011), University of Maryland (2014), and Rutgers University (2014). He ushered in the Big Ten Network to be a dedicated channel sanctioned by the Big Ten Conference that broadcasted live and recorded event telecasts, news, analysis programs, and other content focusing on the conference's member schools. He also negotiated a guarantee for Big Ten schools to participate in seven different FBS bowl games each year. He is considered one of the most influential individuals with regard to the Bowl Championship Series, and strongly opposed a college football playoff system. Delany negotiated an $6 billion 11-year contract with CBS to broadcast Big Ten men's basketball NCAA tournament games.