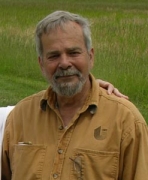 Awards
Thomas Hart Benton Mural Medallion (2009)

IU Data Center Dedication
Bloomington, Indiana
Presenter: Michael A. McRobbie
About Christopher Peebles
Christopher Peebles came to Indiana University in 1985 as director of the Glenn A. Black Laboratory. His career at Indiana University uniquely encompassed both anthropology and information technology. His interest in formal organizations and their cultures' effect on quality of corporate performance led to a key role in bringing vital cost and quality management programs to Indiana University's central information technology organization.
Dr. Peebles served twice as interim chief information officer at Indiana University. Dr. Peebles has published and made important contributions in several distinct fields: anthropology, information science, quality management, and information technology, and was active in the Indiana University community and faculty governance.
IU awarded the Thomas Hart Benton mural medallion to professor emeritus of anthropology Christopher Peebles in 2009. Recognized for his prominent achievements and dedicated service, Peebles is an expert on the ancient past whose contributions to IU's high-tech present and future also are acknowledged with this honor. Peebles retired from IU in 2009.