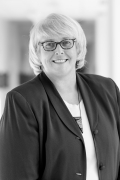 Awards
Bicentennial Medal (2019)
About Cynthia P. Stone
Cynthia P. Stone is an IU alumna and former member of the IU Board of Trustees. Stone earned a B.A. in special education in 1978 and then later earned an M.A. in instructional systems design in 2008 from Indiana University Bloomington. Stone was elected by the IU alumni body to serve from 1993 until 1996, becoming the first university employee elected as well as the first openly gay member of the Board of Trustees.
As an undergraduate, Stone was an engaged student, serving as an usher at the Musical Arts Center, secretary of Wright Quad Student Government, member of the IU Judo Club, member of the IU Ballet and Opera Theatre, an orientation assistant, and she played intramural softball. In 1981, she began working for IU as a clerical staff member by day and graduate student at night. In 1986, she became a training and communications coordinator in the Physical Plant. Over the next eighteen years, she developed educational programs and communications and instructional materials for more than 1,000 employees, conducted training, and designed a variety of multimedia tools. She also collaborated with the IU Foundation to engage donors for landscaping projects.
Because she felt strongly that both women and staff in general needed a stronger voice in the university, she decided to run for the trustee position and was elected in 1993. During her tenure on the board, she worked tirelessly on behalf of IU employees, especially on women's and family issues, and issues related to undergraduate education. After experiencing the death of her partner in 1995 and the negative impact of IU's health insurance policy that excluded domestic partner benefits, Stone vigorously pursued policy changes that would recognize all types of diversity at IU. While she was unable to change effect policy changes before the end of her tenure on the board, she went on to serve on a university task force to study the issue of same-sex domestic benefits, resulting in the decision by IU in 2001 to extend health care benefits to same-sex domestic partners.
Stone is an IU Alumni Association Board Member, serving on the IUAA Executive Council, and is a board member on the GLBT Alumni constituent group. She worked with the IU Foundation Academy for Women to organize the Women and Workplace Conference, among other initiatives. She received the 2011 Spirit Award from the LGBTQ Student Support Services Office for her mentoring and advising women's and GLBT student groups. Stone is also active in the community working with the Women in the Arts initiative, Girl Scouts of Tulip Trace, served as an Indiana Delegate to the National GSUSA Convention in 2003, served as coordinator of the Interfaith Winter Shelter from 2010 to 2015, volunteers with the Community Kitchen of Bloomington, and the Bloomington Feminist Chorus.
Stone retired from IUB as a senior lecturer in the Kelley School of Business in May 2017 having been a finalist for the 2015 Trustee Teaching Award, and having received the Outstanding Women's Staff Member of the Year for her work on personal safety in 2003.
Stone received the IU Bicentennial Medal in September 2019 in recognition of her distinguished service as a member of the IU Board of Trustees.