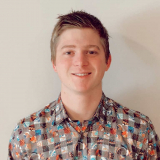 Awards
Goldwater Scholarship (2020)
About Joshua Beeler
Joshua Beeler, from Kokomo, Indiana, is majoring in chemistry and working on a project developing electrode materials.
Beeler worked under the guidance of Dennis Peters, the beloved Herman T. Briscoe Professor of Chemistry who passed away on April 13, 2020, a few days short of his 83rd birthday. Beeler came to IU as a pre-med student, but his freshman general chemistry class with Peters was transformative and changed his path to focus on analytical chemistry.
Beeler hopes to go to graduate school to specialize in analytical chemistry and then to be a research professor with his own lab.
In 2020, Beeler became a Goldwater Scholar.