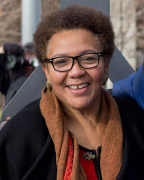 Awards
Chancellor and Provost Medallion (2019)

IUPUI Chancellor's Medallion
Indianapolis, Indiana
About Khaula H. Murtadha
Murtadha served as Executive Associate Dean of the IU School of Education at IUPUI from 2001 to 2007 and was previously Associate Vice Chancellor for Lifelong Learning. Murtadha was also integral in the expansion of the Center for Urban and Multicultural Education at IUPUI. A dedicated advocate of urban education, she has worked diligently to create collaborative learning opportunities involving both IUPUI and Indianapolis Public Schools students. She taught graduate coursework in school/community relations, supervision, and curriculum in the Urban Principal Preparation program, as well as doctoral seminars in race, culture, and gender.
Murtadha has served as either principal investigator or co-principal investigator for externally funded research and programming grants in excess of $5 million. Her current research includes ethics in community-university partnerships, African-American women in educational leadership, and collaborative leadership in urban schools.
In 2018, Murtadha received the Leadership Award from the Indiana Council for Continuing Education and has also been honored with the Center for Leadership Development's Madame C. J. Walker Outstanding Woman of the Year Award; the National Coalition of 100 Black Women, Indianapolis Chapter Breakthrough Woman Award; the Indianapolis Public Schools Asa Hilliard Award; and the Indianapolis chapter of the National Council of Negro Women Leadership in Education Award; among a number of other honors.
Murtadha's many publications include work appearing in the Journal of Community Engagement and Higher Education, Education Administration Quarterly, and the Encyclopedia of Educational Leadership and Administration.
Murtadha was honored with the IUPUI 50th Anniversary Chancellor's Medallion for her service to the city of Indianapolis, to the School of Education at IUPUI, to the IUPUI campus community, and to the field of education more broadly, to which she has contributed outstanding research and award-winning leadership.