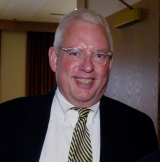 Awards
IUPUI Spirit of Philanthropy Award (2021)
Chancellor and Provost Medallion (2019)

IUPUI Chancellor's Medallion
Indianapolis, Indiana
About Scott Evenbeck
Evenbeck joined the IUPUI faculty in the School of Science's Department of Psychology in 1972. Following that appointment, he served in a variety of roles, including director of student services, director of continuing studies, associate director of administrative affairs, associate dean for the School of Science, and associate vice chancellor for undergraduate education. Upon the establishment of University College in 1997, Evenbeck was named its founding dean.
As founding dean, Evenbeck guided the development of the academic unit that serves all incoming students from orientation through undergraduate degree program enrollment. While serving as dean, he developed award-winning learning communities and honors programs that helped increase student engagement and retention.
Evenbeck has dedicated himself to advancing higher education, especially in the area of student success. He was a task force advisor for the Foundations of Excellence in the First College Year and a board member of the American Conference of Academic Deans; served on the advisory board for the National Resource Center for the First-Year Experience and Students in Transition; and taught on the faculty for the Learning Community Institute of the Washington Center for Undergraduate Education, among a number of other positions. For this and other activities, Evenbeck was awarded a National Learning Communities Conference Lifetime Achievement Award in 2010, the same year he received the Gerald L. Bepko Outstanding Administrator Award.
Evenbeck now serves as the founding president of Guttman Community College of the City University of New York where he continues his commitment to student growth, retention, and achievement.
Scott Evenbeck received the IUPUI 50th Anniversary Chancellor's Medallion from Nasser H. Paydar on April 11, 2019, during the Division of Undergraduate Education Spring Awards Convocation. Evenbeck was recognized for developing award-winning learning communities, Summer Bridge and honors programs, and other student services at IUPUI, as well as his continuing leadership in higher education.