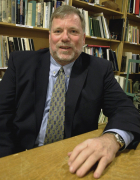 Awards
Bicentennial Medal (2020)
About Charles Beeker
Charles Beeker is an Indiana University alumnus and clinical professor in the School of Public Health, IU Bloomington. Beeker earned his B.A. and M.A. from Indiana University Bloomington and received an honorary doctorate from the Institute of Archaeology and Ethnography at the National Academy of Sciences in the Republic of Armenia.
Beeker joined the IU faculty in 1974 and has served in a variety of capacities including as a lecturer, clinical professor, and the founding director of the IU Underwater Science and Academic Diving Program. He is a registered professional archaeologist, PADI Master Instructor, and has been teaching recreational and scientific diving classes for over 40 years. He has served as a member of the federal Archaeological Working Committee for the 1988 Abandoned Shipwreck Act and was appointed to the Marine Protected Areas Federal Advisory Committee in 2005. Beeker has assisted in establishing underwater state parks across the United States and the Caribbean, using a model of multidisciplinary scientific investigations of both the submerged and cultural and biological resources.
Charles Beeker received the IU Bicentennial Medal in August 2020 in recognition of his distinguished leadership of underwater science programs throughout the world.