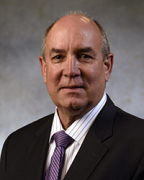 Awards
Bicentennial Medal (2020)
About Michael Bauer
Michael K. Bauer is senior vice president and senior credit officer with WesBanco Bank, Wheeling, West Virginia. He previously served as executive vice president commercial lending for MainSource Bank, Greensburg. Bauer joined MainSource Financial Group in 1995 as president and CEO of a former affiliate, Regional Bank, New Albany, prior to which he was president and CEO of Harris Bank, Bartlett, Illinois.
Bauer is a member of the board of advisors of Indiana University Southeast, and a past member of the Independent Community Bankers of America-Regulatory Review Committee and of the American Bankers Association Community Bankers Council. Additionally Bauer has served on the boards of directors of the Southern Indiana Chamber of Commerce, of the Economic Development Council of Southern Indiana and of the Arts Council of Southern Indiana. He earned a bachelor's degree from Eastern Illinois University, an MBA from DePaul University and has served as adjunct professor at I.U. Southeast. Bauer served the IBA as 2010 chairman of the board and as first and second vice chairman; he also is a past director of the Community Bankers Association of Indiana.
Bauer received the IU Bicentennial Medal in June 2020 in recognition of his distinguished service to Indiana University Southeast.