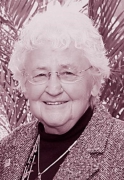 Awards
Honorary Degree (1987)

D.S.
Doctor of Science
Commencement
Indianapolis, Indiana
Presenter: John William Ryan
About Grayce McVeigh Sills
Sills was born and raised in Bremen, Ohio. She graduated from Rushcreek Memorial High School in 1944 and attended Ohio State University for two years. However, it was at a summer program at the Rockland State Mental Hospital School of Nursing in New York, which resulted in her deciding to become a nurse. She ultimately graduated from Rockland State Hospital School of Nursing in 1950 and attended the Teachers College at Columbia University the following year.
Her first assignment was to the Dayton State Hospital in 1955. The following year, she obtained her Bachelor's degree from the University of Dayton. Sills went on to study Sociology and received a Master's from Ohio State University in 1964. That same year, she began her teaching career in what was then the College of Nursing. She earned a Ph.D. in Sociology from OSU in 1968.
Sills was instrumental in developing the graduate level clinical nurse specialist program in psychiatric mental health nursing. Sills advanced quickly. She helped develop the Ph.D. program in nursing, and served as Director of the Advanced Psychiatric Mental Health Nursing Program. She was Chair of the Department of Family and Community Nursing and served as the Director of Graduate Studies, as well as acting Dean. Sills also helped the School of Nursing achieve College status within the University system. She remained at the OSU College of Nursing until her retirement as Professor Emeritus in 1993.
Sills was an international consultant for community-based mental health nursing, and a visiting professor at: Case Western Reserve University, Frances Payne Bolton School of Nursing; the University of New Mexico School of Nursing; Rutgers Graduate School of Nursing; Oregon Health Sciences University; Indiana University School of Nursing; and Fairfield University School of Nursing. Sills was a Founding member and past president of the American Psychiatric Nursing Association, president of the American Nurses Foundation, a founding member of the American Nurses Association Commission on Human Rights, and was named a Fellow of the American Academy of Nursing. In 1999, she was recognized as an Academy Living Legend. She served as chairperson on the Study Committee on Mental Health Services for Ohio. In 1986, she was named Woman of Achievement by the Columbus YWCA.
As a former chair of the OSU Hospitals Board of Trustees, she was instrumental in gaining its support for Magnet hospital status in 2005. She had the rare distinction of receiving three important awards from OSU: a Distinguished Teaching Award, a Distinguished Service Award and an honorary doctorate in public service. Sills was recognized with honorary doctorates from Indiana University and Fairfield University in Connecticut. In 2000, she received the American Nurses Association Hildegard Peplau Award.
Sills will long be remembered as a pioneer in psychiatric mental health nursing - nationally and globally - for having provided consultation to colleagues in across the world. She championed improving care for the chronically mentally ill and both taught and mentored thousands of nursing students. Sills authored more than 60 articles in scholarly journals and recorded 15 educational videotapes focused on leadership and psychiatric mental health nursing.
She was a pioneer in the promotion of interdisciplinary collaboration among health care professionals. Her commitment to interdisciplinary collaboration has led to the recent projects of Bridges, funded by the Columbus Medical Association, and the OSU STAR (Stress, Trauma, and Resilience) Program, focused on providing clinical care for healthcare professionals, patients and families affected by trauma.