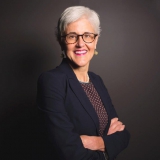 Awards
Bicentennial Medal (2019)
President's Medal for Excellence (2016)

Presenter: Michael A. McRobbie
About MaryFrances McCourt
MaryFrances McCourt served IU from 2005 to 2015 as university treasurer and as a vice president and chief financial officer from 2013 to 2016. She was named senior vice president and CFO in April 2014. McCourt earned B.A. in economics from Duke University, having had the opportunity to study abroad for a summer in Oxford, England, and an M.B.A. from Case Western Reserve University.
In her role at IU, she was responsible for the financial management of an institution with nearly 115,000 students across the state, a budget approaching $3.5 billion and a human resources operation that provides service to over 20,000 faculty and staff members.
Named 2014 CFO of the Year by the Indianapolis Business Journal, McCourt led a number of initiatives to optimize the financial performance of the university's $2 billion investment and $1 billion debt portfolios, and strengthened IU's long-range financial planning.
She was instrumental in guiding the university's strong fiscal performance during the 2008 financial crisis and subsequent recession, which resulted in IU earning and retaining its AAA credit rating from Moody's Investors Service. Moreover, in February, IU became one of only six public universities in the country to achieve the highest rating from both Moody's and Standard & Poor's after the rating for bonds issued by IU was increased to AAA by Standard & Poor's Rating Services.
Her duties at IU also included oversight for the IU Office of Student Financial Literacy, established in 2012, where her leadership played a pivotal role in a 16 percent decline in student borrowing over the past three years, resulting in approximately $82.5 million in debt reduction. The IU student loan debt letter -- an annual practice begun in the 2012-13 academic year that provides information on debt amount and repayment timeline to all student borrowers -- was praised nationally last year by Yahoo Finance as one of five "genius ways colleges are tackling the student debt crisis."
In addition, McCourt is responsible for IU saving $214 million over a period of four years through volume buying and applying procurement best practices. She is also one of the architects of the university's Healthy IU employee wellness initiative and remains a strong advocate for the program.
In October, her expertise was called upon by the United States House Ways and Means Committee's Subcommittee on Oversight, before which she testified about university endowments and college tuition.
McCourt received the IU Bicentennial Medal in September 2019 in recognition of her distinguished service as university treasurer, senior vice president and CFO of Indiana University.