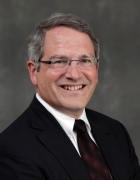 Awards
Bicentennial Medal (2019)
President's Medal for Excellence (2012)

Farewell Reception for Theobald
Bloomington, Indiana
Presenter: Michael A. McRobbie
About Neil Theobald
Neil Theobald joined Indiana University in 1993 as an associate professor of educational finance in the School of Education. He was named chief financial officer in July 2007 and was named senior vice president in October 2011. He is a recognized expert on educational finance who has long been a strong voice for educational affordability and academic excellence at IU.
During his tenure, he led a comprehensive effort to control the university's spending through increased operating efficiencies. At the same time, the university has elevated the quality of its faculty and attracted some of the best students in its history, prompting a number of educational publications to recognize IU as one the best values in U.S. higher education in recent years. His office has led a number of initiatives to help students lower their debt loads and better understand the implications of borrowing, including the university's new Office of Student Financial Literacy announced in June.
A native of Peoria, Illinois, Theobald came to IU from the University of Washington, where he was associate professor of education finance. He earned a bachelor's degree from Trinity College and a doctoral degree from the University of Washington.
He is a past president of the American Education Finance Association, winning the association's Jean Flanigan Award for the outstanding dissertation in the study of educational finance in 1990. In 1995, the University Council for Educational Administration presented Theobald with the Jack A. Culbertson Award as the professor who, in the first seven years of his or her career, made the most outstanding contribution to the profession. In 2003, Theobald was presented the Distinguished Graduate Award by the College of Education at the University of Washington. Theobald is a three-time winner of IU's Teaching Excellence Recognition Award.
Theobald served as president of Temple University from 2013 to 2016. In 2018, he was appointed vice president for finance and administration at the University of Wyoming, and was named acting president on July 1, 2019.
Theobald received the IU Bicentennial Medal in September 2019 in recognition of his distinguished service as vice president and chief financial officer for Indiana University.