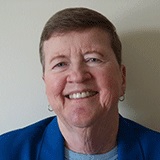 Awards
School of Nursing Distinguished Alumni Award (1981)
About Sarah E. Archer
Sarah E. Archer is a public health nurse working with the Center for Disaster Management and Humanitarian Assistance in New Orleans, LA. She holds a BSN from Indiana University, a master's in public health from University of Michigan, and a doctorate in public health from University of California-Berkeley. Throughout her nursing career, she was a professor of public health nursing at University of California at San Francisco from 1973 to 1984 and served as a visiting professor at Dhaka University in Bangladesh, University of Indianapolis, and Indiana University.
Dr. Archer has also been a consultant for the Indiana Primary Health Care Association, Marion County Health Department's fetal and infant mortality program, and the Indiana State Health Department's HIV/STD program. She is a volunteer member of the Indianapolis and the American Red Cross National Disaster Services Human Resources System. In 2001, Dr Archer became a Visiting Fellow in Eastern European and Central Asian Studies at the Hudson Institute in Indianapolis.
Most significantly, Dr Archer has served in international humanitarian assistance throughout her career. She assisted in the following positions: Rural public health nurse serving refugees and internally displaced people (IDPs) in Jordan for Near East Christian Council for Refugee Work, a faith-based organization, 1960-61; Senior Nurse Educator and Maternal-Child Health and Nutrition Project Coordinator, in Bangladesh World Health Organization (WHO), a United Nations Agency, 1985-90; Training Methodology Specialist training-trainers in MCH and Family Planning program in Bangladesh for Gesellschaft feur Technische Zusammenarbeit (GTZ), the German Government's bilateral international development assistance agency, 1990-94; Principal Investigator for an Emergency Health Assessment of internally displaced persons (IDPs) in rural Angola for International Medical Corps (IMC), a U.S.-based non-government organization (NGO), 1994; Country Director and Medical Coordinator in Rwanda, IMC, 1994-95; and Emergency Health Assessment of refugees in Serbia for the Institute of Public Health in Belgrade and of IDPs in Kosovo and in Montenegro to prepare grant proposals for assistance for IDPs in Kosovo for International Medical Corps, 1998.
Since 1998, Dr. Archer had been an expert on humanitarian assistance with the Battle Command Training Program (BCTP) based at Fort Leavenworth, KS as a civilian contractor through Northrop Grumman/Logicon. She brings her humanitarian assistance and public health expertise to professional military education and training for humanitarian assistance in disasters, peacekeeping operations, consequence management, and warfighting. Dr. Archer also is a visiting faculty member at Joint Forces Staff College, Norfolk, VA; Joint Special Operations University, Hurlburt AFB, FL; Marine Staff College, Quantico, VA; and Command and General Staff College, Ft. Leavenworth, KS. In 2000, she worked with NGOs in Bosnia and visited US-SFOR troops for feedback on training they had received. She visited IOs and NGOs in Kosovo mid-2001 in preparation for KFOR training. In addition, Since 2000 she has served as an expert for African Crisis Response Initiative (ACRI), revising the Medical Procedures for the ACRI Standard Operating Procedure and completing brigade-level training exercises with Senegalese military peacekeepers in Dakar, Senegal and with Kenyan military peacekeepers in Nanyuki, Kenya.